In an attempt to shamelessly get Project Search & Replace into people's hands, I've created a free version: Project Search.
Free Version: Project Search
Like its bigger brother, Project Search allows you to search across an entire project but is feature limited:
Replace is not available.
Search Scope is not available.
Search while the application is playing is not available.
Copy to Clipboard is not available.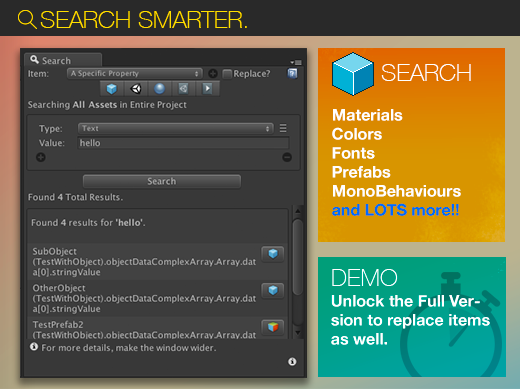 And did I mention its FREE?!
New Features in v.1.1
When doing a Property search of a GameObject, all searchable properties of every Component are now displayed.
Ability to Search & Replace instances of prefabs.
Ability to modify the paths of the Animation Hierarchy.
Added 'swap' button to swap search and replace values.
Added Keyboard Shortcuts:

Ctrl/Cmd+Enter : Execute Search.
Ctrl/Cmd+Shift+Enter : Execute Search and Replace.

New Start Window allows faster search creation.
More Videos
In addition to the current videos, I've made a few videos that show off some uses of project search and replace:
How to swap out a script on a MonoBehaviour:
How to search and replace instances of prefabs:
Fixing animation paths:
Thanks to those who gave me feedback on the previous versions, I've done my best to incorporate them in this release. Got something you'd like to see? Email me. And you can purchase Project Search & Replace here.